Jack Valenti was present at the JFK assassination and became a close aide to Lyndon Johnson before being made head of the Motion Picture Association of America.  Valenti's lengthy FBI file – which I will be writing on in several parts – details his White House career, investigations into both his mob ties and allegations of sexual perversion, some hints towards his CIA connections as well as some of his nearly 40 years at the MPAA.  It also includes an investigation into items going missing from his luggage in an LA airport and a rumour that he arranged for a young woman to have an abortion of LBJ's lovechild.
Jack Valenti's FBI File and the JFK Assassination
Valenti served in the US Army Air Force in WW2 before going to university and then joining an oil company's advertising department.  In the early 50s he co-founded his own advertising company and after meeting Lyndon Johnson – then a senator – in 1956 the company branched out into political consulting too.  They advised on the presidential election of Kennedy-Johnson in 1960.  On November 22nd 1963 Valenti was the official White House liaison with news media and was in the motorcade when John F Kennedy was assassinated.  Valenti was even pictured on the plane when Johnson was sworn in as Kennedy's successor in the hours after the murder.
Valenti looking very serious on Air Force One, November 22nd 1963
Valenti then became an aide to President Lyndon Johnson though exactly what he did for LBJ is not clear.  The FBI files (courtesy of a FOIA request by The Black Vault) refer to him as a 'consultant' or 'special consultant' which could mean anything.  What does seem sure is that Valenti started this job on the very day of Kennedy's assassination and Johnson's ascension.  He recalls being part of a very select group of people around Johnson that evening.  His FBI file notes that within a few weeks the White House asked the Bureau for a background check on Valenti due to his new position, noting that he had 'been with the President since November 22'.
FBI memo, December 13th 1963
The background checks, which included communications with Army Intelligence, found nothing particularly derogatory despite allegations that Valenti was tied to a mobster in Houston whose name is redacted but who was the head of an oil company.  The Bureau also found out that Jack's father Joe Valenti had been jailed for two years for embezzlement in 1937 when he was Deputy Assessor and Collector of Taxes of Harris County and stole something like $175.  Valenti married LBJ's secretary Mary Wiley in 1962, cementing his relationship with the White House and with Johnson personally.  The FBI noted in a 1964 memo that like Jack, Mary's father George Wiley had also been jailed in 1937 for embezzling $40,000 from a bank where he worked.
Was Valenti a 'Sex Pervert'?
The next round of allegations against Valenti began in 1964, with a mysterious phone call to the FBI saying that he should be investigated as a sex pervert, which the caller believed Valenti was due to newspaper reports of him swimming nude.
FBI memo, October 19th 1964
This sparked off a lengthy investigation into Valenti's private life, especially the suggestion he was having a homosexual affair with a photographer who had photographed Johnson in 1962.  Numerous informants and reports came in, some very suggestive but no one with direct or even reliable second hand knowledge.  The Republican Party hired a former FBI agent to investigate the same rumours, which the Bureau also knew about and did nothing to interfere with.
Another man who was in the loop was Bill Moyers, who like Valenti was at that time a special aide to the President.  Moyers was in contact with the Bureau not just regarding Valenti but also regarding other White House staffers.  When it emerged that Moyers had written to the FBI trying to get them to investigate members of Barry Goldwater's staff on the grounds of supposed homosexuality, Moyers alleged that the letter was a CIA forgery.  Likewise when the FBI file on Valenti was first made available to the Washington Post in 2009 Moyers said that his 'memory is unclear after so many years'.  Moyers is now a member of the Council on Foreign Relations, and Valenti did speak at CFR events.
After interviewing the photographer, who denied that Valenti even knew he was gay, the FBI and thus President Johnson were satisfied there was nothing going on.  The allegations came to nothing but hypocritically when Valenti left the White House to become the new head of the MPAA the FBI (presumably Hoover) wrote a letter of congratulations to him.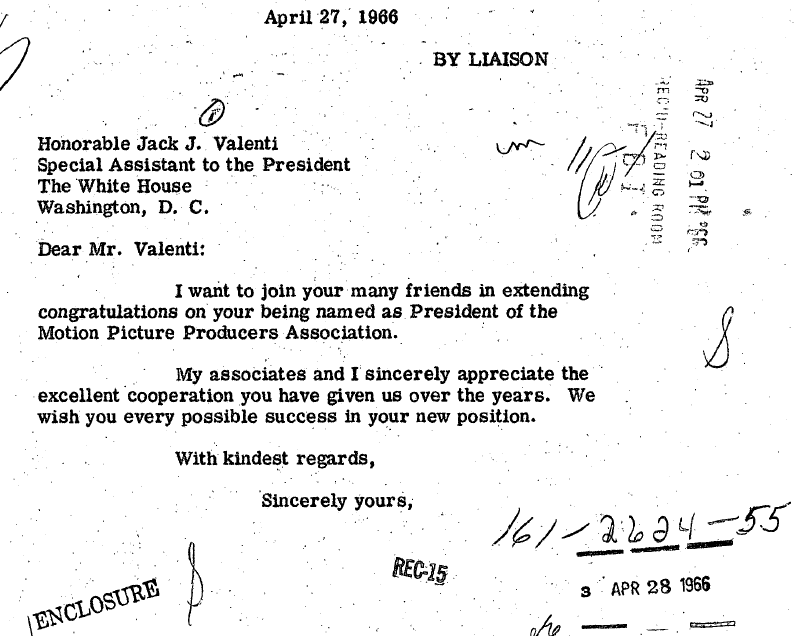 FBI Letter to Jack Valenti, April 27 1966
Hoover also sent a letter to Valenti a few months later when his son was born, and a further letter that was read out at a dinner in Valenti's honour in Houston.
The Second Background Check and the CIA
The core file on Valenti also details an expedited background check done in 1974 when Valenti was being considered for a position in the White House.  This was only weeks after Gerald Ford had replaced Richard Nixon and after Valenti's connections to the CIA had become stronger.  While Valenti was an aide to Johnson he was some kind of liaison with the CIA and some of their correspondence and other documents are available.  Most interesting is a letter from DCI John A McCone to the President, regarding a Time article alleging that the CIA had suggested to the White House that several staffers – including Valenti – be subject to 'field investigations' before being given security clearances.  The article claimed that the White House wasn't keen and so the CIA just issued the clearances anyway.  McCone wrote to LBJ to express his anger and apparently correct the record:
CIA Director John McCone letter to LBJ, 1964
10 years later when the FBI was conducting another investigation into Valenti on behalf of the White House they consulted with the Defence Central Index of Investigations (DCII) at Fort Meade (next to the NSA) and with the CIA.  The DCII is a central database of investigations conducted by different parts of the military.  They replied that there was a file from the Naval Investigative Service that it seems was on Valenti, but that 'the files concerned no additional pertinent information' about him.  By contrast, the section on whatever the CIA at Langley had on Valenti is completely redacted at the CIA's request.
FBI teletype, October 4th 1974
The Bureau also consulted with everyone from the Secret Service to Valenti's bank to the US Information Agency to the John F Kennedy Center for Performing Arts.  They found nothing bad and numerous good reports about Jack, with several people recommending him for a government post.  The FBI reported back to Ford's White House that there was no problem with Valenti, but when they listed the other agencies they had consulted in their investigation they failed to include the CIA:
Valenti was also considered for a presidential appointment in 1980 and in 1990 but it seems that nothing came of these suggestions – whether as a result of the FBI's probes or for other reasons.  What we do know is that Valenti maintained contact with the CIA after leaving the White House in 1966.  As detailed in the book The Man Who Kept the Secrets: Richard Helms and the CIA when Helms was DCI he approached Valenti trying to sell him the idea of film adaptations of Howard Hunt's spy novels. The CIA always wanted to produce their own rival to the James Bond films and though these approaches were unsuccessful this is another indication that Valenti, like his predecessor Eric Johnston, was friendly with the CIA if not an active asset.
Bringing us full circle, Howard Hunt made a very late and unconvincing confession to his role in the JFK assassination, and even the CIA's own historian David Robarge thinks that John McCone was involved in a 'benign cover-up' and 'in that sense was a co-conspirator' in the murder.  When Oliver Stone's film JFK came out in 1991 Valenti was publicly very critical of the film, saying it was a 'monstrous charade'.
I will be writing a follow-up article on the other FBI documents on Jack Valenti soon.
Documents
You can download the main FBI file on Jack Valenti here (PDF, 32MB) and the CIA documents on Valenti from his time at the White House here (ZIP).