The soft reboot of the political drama Designated Survivor recently dropped on Netflix and in spite of Kiefer Sutherland making the least convincing president since Sarah Palin it is a considerable improvement on the first two seasons.  What no other critic has noticed is that the CIA supported the series, likely through their 'longtime contact' Rich Klein.
The hook for Designated Survivor is simple – Sutherland plays a HUD secretary who becomes president after a massive bombing during the State of the Union address wipes out the entire executive branch of the US government.  He then faces challenges to his legitimacy and a host of other issues while trying to rebuild the government, while tenacious FBI agent Hannah Wells (Maggie Q) investigates who was behind the attack.
The series was cancelled by ABC after the second season following a sharp dropoff in audience numbers and positive critical responses, but it was picked up by Netflix and rebooted with a new writing team.  It seems to have worked, as season 3 is much more thematically relevant and anchored in real-life issues than its forerunners.  Sutherland remains a bizarre amalgam of sanctimonious do-gooder and Jack Bauer-style hardass but the supporting cast is strong and the script gives them plenty to do.
Where things get interesting is when we take a look at the show's consultants.  These include Timothy Naftali, a Canadian-American academic who worked on the 9/11 Commission; Eric Schultz, a former special assistant to President Obama; Kal Penn, a former associate director in the Obama White House's Office of Public Engagement, who also plays Sutherland's Press Secretary in Designated Survivor; and Bob Okun, former head of NBC Universal's Government Affairs office in DC.
Where things get really interesting is when we note that one of the show's producers is Rich Klein – the former Clinton White House/State Department employee who now runs the political-media consultancy wing of McLarty Associates, a prestigious DC law firm.  Designated Survivor is the first (and so far only) TV series Klein has produced, perhaps fitting for a man who described himself as 'not a movie guy' when discussing his work for McLarty Media.  But Klein has consulted on a number of politically-charged movies including Kill the Messenger, Blackhat and War Machine.  He has also worked on a number of DOD-supported projects including Fast & Furious 8, Whiskey Tango Foxtrot and Transformers: Revenge of the Fallen.
A CIA summary of their entertainment liaison office/public affairs activities circa 2014-2016 calls McLarty a 'longtime contact' of the CIA, confirming a suspicion I held for a long time that he was a kind of unofficial entertainment liaison officer for the Agency.  His work on CIA-supported projects including The Kingdom, the Mission: Impossible franchise and Tom Clancy's Jack Ryan piqued my curiosity, and while it wasn't surprising it was reassuring to find out that my suspicion is correct.
Up until now the CIA had little visibility in Designated Survivor, though in season 2 a CIA officer does help Hannah Wells in her investigations.  Season 3 changes all that.
In the opening episode Wells is kicked out of the FBI for going rogue and ignoring orders, but is instantly picked up and recruited by the CIA.  On her first visit to Langley she comments to her boss that their HQ is much nicer than the FBI's, and gets the response, 'I'll pass your compliments on to the ghost of Allen Dulles'.
As the season progresses all the usual signs of CIA support start to appear, from aerial shots of Langley to a realistic recreation of the CIA's lobby complete with the CIA seal and the memorial wall.
One scene feels particularly crowbarred in – when Wells and a scientist she is working with stop to take a look at the stars on the wall commemorating CIA officers who have died in operations.  It adds little to the plot or the character arcs, and helps focus attention on the idea that the CIA is a benevolent self-sacrificing agency trying to protect us.  Similar scenes dominate CIA-supported productions.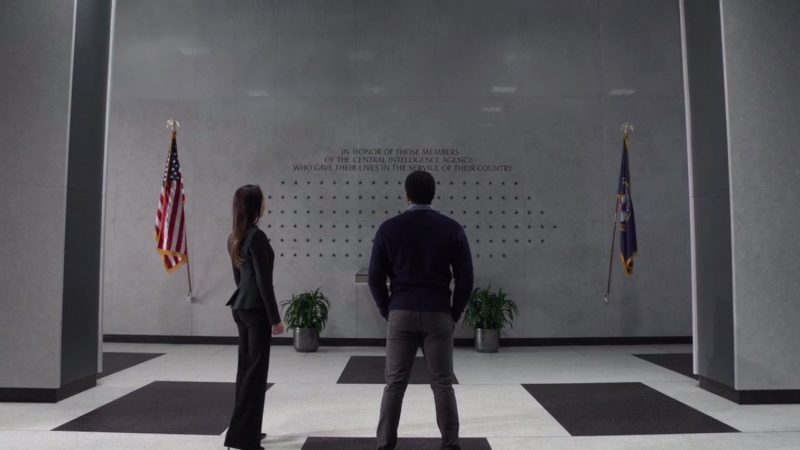 After her investigation into a neo-Nazi bio-terror gang leads Wells to break into someone's home and then shoot them when they return she is given a dressing down by her boss for 'spying on and then killing a US citizen'.  She is told that's 'not what we [the CIA] do' and 'that's the FBI's job'.  This rather clunky dialogue about the CIA respecting the legal limits to their activities is excessive, and screams 'written by a PR officer'.  Ultimately, Wells is not deterred and continues her probing into the terror gang and ends up dead, poisoned by VX gas.  This leads to her becoming a star on the wall, as predicted in the scene above.
I have put in FOIA requests with both the CIA and the FBI regarding Designated Survivor.
Documents
CIA – Entertainment Liaison and Media Outreach, List of Major Meetings, Substantive Interactions and Shoots (2014 – 2016)